By
Sonny Soh: Winning the Malaysian Motorcycle GP was my childhood dream since I started riding motorcycle at the age of 14. In 1976 I was riding with a lot of confidence, finishing second in the Selangor GP, third in the Malaysian GP and third in the Macau GP.
Following that relatively successful year, I told my sponsor, RJR-Camel Cigarette, that I needed a new bike for the 1977 season. They agreed, and Yamaha flew out a brand new TZ 750, to my delight.
Under normal conditions before the Malaysian GP or any other major race, a team takes at least two weeks of preparation, especially for a brand new bike. When I mentioned 'team', I meant I was the one and only member. My two brothers and my wife will help out during the weekends.
Unfortunately, due to some hiccups, the new bike only arrived three days before the GP as it went to the other side of the world, to Brazil. Later I found out that the Japanese thought it was meant for Johnny Cecotto, the world champion.

By the time I cleared the bike from the airport, it was already Wednesday. Thursday was the unofficial practice, while Friday was the official practice and grid positioning. Saturday was the class race and Sunday was the GP.
With time against me, I began work on the bike by myself, setting up the carburettor setting, gearing, riding position, etc. It was only by late evening on Wednesday, that I was ready to fire up to start up the bike. But to my shock and dismay, the engine refused to fire up. It was past 11 pm already and I was totally spent, tired and hungry and could not do anything more.
Early next morning, I completely stripped down the engine for a rebuild. I found out the cylinder was badly scarred, which was why the engine didn't fire up. I changed all the parts that needed to go. And what do you know, the bike started up, it was music to my ears. At the Batu Tiga Race track on Thursday, all the local and foreign riders were already tearing down the track and fine tuning. I was just testing and sorting out the new bike and getting used to it.
Next day, at the official practice, I finished 4th behind Trevor Discombe, John Boote and John Woodley, who just returned from the 500cc World Championship.
On Saturday, in the Class race for 250cc, I came out tops, after a tough race with Fabian Looi from Singapore. The win gave me more confidence.
It is always difficult to decide on the right tyres and compound for the 60-lap race. I was sponsored by Goodyear. I could not decide which tyres to use for the race. Although the Dunlop tyres had a slight advantage over Goodyear, I went for Goodyear as it had a harder compound, which turned out to be the right decision. For the 500cc and above Class race, I managed 4th position overall and 3rd in my class after Trevor, John Woodley and John Boote.

It was a hot and humid Sunday and the GP started at 2 pm. At that time, it was a push start mode. I managed to lead the race for about 10 laps or slightly more, but Trevor Discombe passed me on the 15th lap. Shortly after that, my crew put up a sign to let me know that John Boote and John Woodley have both crashed out on the first corner.
When Trevor passed me, I reminded myself that it will be a very long race, to be patient and just keep him in sight. As the race wore on, my pit crew put out another sign, telling me that Trevor was out of the race due to mechanical problem. After inheriting the race lead, it was still a long way to go.
Throughout the remaining laps, I felt the pressure coming onto me. I had to be focused, stayed calm and tried not to make any mistakes. Just prayed that there will not be any mechanical problems.
When I saw the chequered flag, the feeling was like someone had lifted a ton off my shoulders. I won by a huge margin, even lapping the 2nd place rider by 2 laps. The rest is history.
I did not realise what pressure is all about until my sponsor brought out promotional items like tee shirts, umbrellas, banners and other items to broadcast the win. What would have happened, if I had not won and what will happen to all the promotional items?


It was my dream coming true, and I never imagined that I would do it again the following year. Up till today, no local boy has won the Malaysian Motorcycle GP twice. I retired in 1980 to concentrate on my career and family.
The Malaysian GP event was held in April every year and attracted drivers and riders from all over the world. Riders had to endure the 60-lap race under the hot blistering sun with temperatures over 30 C in leather suits. Track surface could be as high as 40 C.
To be able to take the punishing 60-lap or 126 miles race, just under one and a half hours, one has to be mentally and physically fit. In order for me to endure the physical punishment of each race, I had to prepare myself at least 6 weeks before the race.
I would do uphill jogging and carry weights to tone my arms for the push start. The motorcycle weighs about 450lbs including fuel. It took a lot of strength and energy to move it. The Yamaha TZ750 was a 4-cylinder, 2-stroke, 6-speed gearbox with a top speed in excess of 180 mph.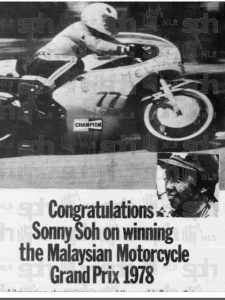 At that time, the Batu Tiga Race Circuit was one of the best circuits in Asia after Japan. The track surface was very good and had a good grip, which provided a lot of traction. But if you crashed or had a fall, it will hurt you badly, like what happened to Jerry Looi in 1980.
I have raced off and on for 12 years. After my accomplishment of winning the Malaysian Motorcycle GP twice, I retired in 1980. I could have carried on, but my desire of winning was not there anymore. Just to be on the podium was not good enough for me.
When I won the Malaysian Motorcycle GP, I was 34 years old. I won again the following year. I won races in Penang, Selangor, Singapore, Indonesia, India and Macau. I have boxes and boxes of trophies from all over. I have also raced in Australia and New Zealand. Other than racing, I have also worked as a race mechanic for British world champion Barry Sheene during my short stay in UK.
Racing has been an enduring achievement for me, one which I hold dear to my heart with all the memories, be it grand or otherwise, forever.