POPULAR NEWS
By Windsor John: In our journey of life, many will come into our paths, through family ties, friendship, colleagues, and people we know on social media. Some...
By Dennis Shepherdson: My father Anselm Nicholas Shepherdson was born in Taiping on 14 May 1900. He worked with the Malayan Railways. He was a very...
WRC RACING WORLD
By Thavanayagam: In 1961 I left Seremban, my hometown, for Kuala Lumpur after having secured a job with the Ministry of Health. As hockey was my...
LATEST ARTICLES
THE LYDIA CRAZE By R VELU The Marina-mania that gripped the athletics scene in the 1977 SEA Games is a thing of the past.  It's now...
By Yong Soo Heong https://www.youtube.com/watch?v=HuhNGkWfLYQ Ng Boon Bee was already a big name in the badminton world and synonymous with Tan Yee Khan when I...
PENALTY KING PRITHIPAL He was dubbed the world's most feared penalty corner specialist Played in three successive Olympic Games hockey competitions for India. 1960 Rome Olympics --...
Prabhjot Singh: A veteran Indian sports journalist, recollects the relationship with India's iconic athlete, Milka Singh. In 1958 when the then Prime Minister Pt Jawahar...
https://www.youtube.com/watch?v=ks2SvPQbpIk Mentor to some, dear friend to many, legend to the industry, and prankster to all, Tony Francis was the real McCoy. Though he has...
By Kyi Hla Han It was 1982, my rookie year when I started my professional golf career playing on the Asian Circuit and Australia. After the...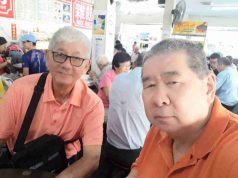 By Yong Soo Heong Shuttler Tan Aik Mong's sudden demise in the evening of May 31, 2020 was indeed shocking, to say the least, for me. One...
By Sylvia Ng I first got to know "Ah Mong", as he was always referred to that way, during our first MSSM (Majlis Sukan Sekolah-Sekolah...