POPULAR NEWS
By Franco De Cruz: There were parallels between the 1972 Munich Olympics and the 1975 World Cup teams. By that I mean, only the chosen 13...
By Eric Ooi: Chinese medicine made me a better driver. I started race driving way back in 1959, more than half a century ago. The TR2...
WRC RACING WORLD
By Semret Singh: One of my sweetest memories in athletics was setting a Malaysian record for the hammer throw at the 1981 Australian Spring Championship in Perth. Not...
LATEST ARTICLES
https://www.youtube.com/watch?v=ks2SvPQbpIk Mentor to some, dear friend to many, legend to the industry, and prankster to all, Tony Francis was the real McCoy. Though he has...
By Kyi Hla Han It was 1982, my rookie year when I started my professional golf career playing on the Asian Circuit and Australia. After the...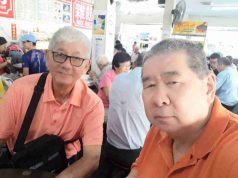 By Yong Soo Heong Shuttler Tan Aik Mong's sudden demise in the evening of May 31, 2020 was indeed shocking, to say the least, for me. One...
By Sylvia Ng I first got to know "Ah Mong", as he was always referred to that way, during our first MSSM (Majlis Sukan Sekolah-Sekolah...
Bunker King Nellan By George Das In the background, Jim Reeves was crooning "I Won't Forget You". It seemed so apt, this country ballad, befittingly played...
By Shyam Ghosh (Shyam Ghosh, cricketer turned sports journalist was Sports Editor of The Statesman, Kolkata. Has covered 7 FIFA World Cup, 4 Olympic Games...
I AM GOLF By George Das He was just not any ordinary golfer All about him was golf A local legend Father of Malaysia's professional golf An epitome of golf A...
By Colin Hart: My enduring memory of Muhammad Ali's world title defence against Joe Bugner was that it was a crushing breakfast-time bore. Along with the 22,000 fans in...