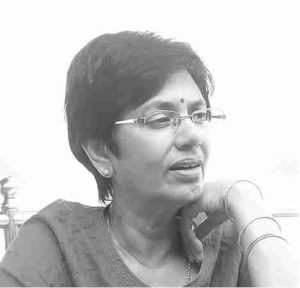 By
Vijeya Gunalan: It all started in early 1970. The badminton team doctor, Dr Ganeson and physical trainer, Mr Nadaraja tried to convince Punch to meet the only daughter of one, K.K Pillai, a good friend of theirs and an avid sportsman and sports fan in his own right.
However, the suave Punch refused, saying that he was not ready to meet anyone at the time, and wanted to concentrate on his badminton training and the 1970 Thomas Cup Finals. However, as fate would have it, I went to the Selangor Badminton Association Hall on 7th April 1970, with my little brother and cousins to get the players' autographs. They were big fans of Punch and the team.
He immediately took a liking to me, and on the pretext of getting us tickets for the Thomas Cup Finals, he managed to get my phone number. He later confessed that he knew the moment he saw me, that I was the person he would share his life with… and he did.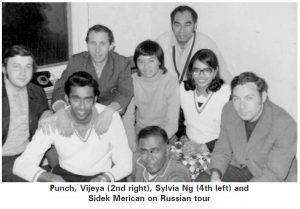 On the very next day, Yew Cheng Hoe, another member of the Thomas Cup squad called me and said that Punch would like to go out with me.  I was shocked and asked my dad's permission. My dad immediately gave me the green light. He felt that I would be in safe hands with Punch, and as such he was more than happy with the situation.
At 3pm, a big car with some of the squad members arrived at my porch. They picked me up and dropped us both at the Odeon Cinema in Kuala Lumpur. We went to see Romeo and Juliet. Unlike the movie, our story had a far happier continuation that lasted 42 years.
We became much closer after that. On Sundays, I used to visit him at the chalet where the team were housed. I used to take tea and food for the team as well. We used to go for movies and to restaurants. The two places we frequented were Paris Corner in Bukit Bintang and Madras Restaurant in Jalan Ipoh. Paris corner is no more, but the Madras restaurant is still going strong in the heart of Kuala Lumpur.
My dad decided that we should get engaged soon, as people noticed this Indian girl going out with a famous sportsman. On 5th Sept 1970, we were engaged and on 12th June 1971 we got married. It was a grand affair at the Kalamandabam hall in Scott Road, Kuala Lumpur.
I still remember when we came down for the reception after the ceremony, Punch was swarmed with young fans asking for his autograph. Such was his appeal at the time. The next day, we had a dinner reception hosted by Punch at the Dewan Bahasa dan Pustaka, where the Yang di-Pertuan Besar Negeri Sembilan and his consort were the guests of honour.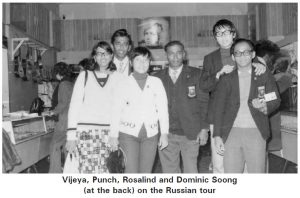 Punch was born in Selangor, but grew up and lived with his mother and three sisters, in Seremban. Punch was not a rich man, as at the time, badminton players played more for the glory of the country than for money. Tournaments won were many but the reward was the honour brought to the country and not monetary. He was kindly loaned money by the Badminton Association of Malaysia, to host the reception. The money was returned to them with thanks.
Our marriage was full of love and happiness. The first year, he travelled a lot as a player. I never complained because that was his passion and he was conquering world badminton as a player. In late 1971, Punch was invited to play an exhibition match in Calgary, Canada. He decided to take me along and for the first time, I got to travel overseas in an airplane. We got the opportunity to stop at Hong Kong, Japan and Hawaii. On the return flight we stopped in California and I got to go to Disneyland. It all seemed like a dream to me at the time. I remember clearly in Hawaii, I decided to wake up early and make eggs for him. Unfortunately it was too salty. But Punch being himself, ate it just to pacify me. For many years after, he always used to tease me about the eggs fiasco in Hawaii. We were generally a very happy and loving couple.
Five years into our marriage, in 1976, our son Roshan was born. It was the happiest day of our lives. Punch, though busy, always made sure he spent as much time as possible with his son. He always considered his son his proudest achievement.
Fast forward to 2001, Punch was elated as his son graduated as a doctor. It was one of his happiest moments. That was only topped in 2007, when our darling grandson, Neraaj Madhav Roshan was born. Punch was a dotting grandfather. He would love to spend time with the grandson, but fate dealt a cruel twist to all of us. For, Punch passed on, just shy of Neraaj's 5th birthday.

Punch was multi-talented. He could handle any job even when under pressure. He was also very forward thinking and would be two steps ahead in most of his plans and projects. He was also talented in other sports. He held the record for pole vaulting in his school, King George V (KGV), Seremban for many years. His forte was however badminton. From a young age, his dad used to train him and he would beat children who were more senior to him.
Punch was also a very good student. He was the top student in his school, KGV, and was the school captain in his final year. He obtained a scholarship from Tenaga Nasional to pursue mechanical engineering in Brighton, England. He returned to Malaysia after completing his studies and worked with Tenaga Nasional (formerly NEB) for five years. After that, he moved on to work at Dunlop. It was at this time that his love for badminton shone through, and he became more involved in the sport he loved. He began to involve himself more in the sport, in a coaching and administration capacity.
Punch received many awards locally, titles, and Sportsman of the Year awards. He received a Datukship from the King in 1992 after Malaysia's Thomas Cup victory that year. He was the coach and manager for that legendary team on 1992. However, not many know that he was also given a Professorship by the Sports Institute of Sofia in Bulgaria. He received the award from the President of Bulgaria at the time, for his contribution to developing badminton in Bulgaria and other Eastern European countries.
Until today, Punch is probably the only person who has excelled in the sport of badminton as a player, as a coach and manager and as an administrator. A ferocious attacking player who smashed like 'punches'. He used the same vigour to train 'his boys', the Thomas Cup squad from 1988 to 1992. This culminated in Malaysia winning the Thomas Cup in 1992, the last time the nation had done so. He used the same guile he had on court, as an administrator.

A role he pursued to the highest level. Among his unknown successes of his time in the Badminton World Federation (BWF) was to bring the head office from England to Malaysia. Punch also was instrumental in changing the scoring system to the current 21- point system used internationally. His aim was to one day make badminton the number one racquet sport in the world, a dream which was not realised in his lifetime unfortunately. As much as he has done for the sport at every level, it is sad that the current generation do not know the legend of Punch Gunalan.
Anyone who knew Punch personally, would know him as a jovial, lovable character. Easy to get along with. Caring and accommodating to anyone he met. He cared a lot for his family and his friends.  Despite being busy, he would spend as much time as possible with me and his son. He would always put his family first.
He was a happy-go-lucky type of person. He had an infectious and characteristic laugh that was instantly recognizable to those who knew him. He would enjoy every celebration and party with his family and loved ones. Always being the loudest among the crowd. He was always happiest when he was surrounded by those he loved. As a husband he was kind and loving with a slight temper. However, his anger never lasted more than 15 minutes and we would be best of friends again soon after.
Despite travelling far and wide, every birthday of mine, he would send me a bouquet of flowers. That was the loving husband that he was, even until his final days. I miss that the most, every birthday since his passing.
Punch suffered a heart attack in 1995. However, he recovered and was well. Until he underwent surgery to his spine in 2006, and subsequently had a coronary artery bypass in 2007. In late 2008, he retired from his post as the Vice-President of the Badminton World Federation. After which, health issues started to take its toll on him. In late 2010 and early 2011, he was diagnosed with Parkinson's disease. His condition slowed him down tremendously. The once active and eloquent Punch was becoming shakier physically and his speech was slurring and slow.

The worst was however yet to come. On 26th Feb 2012 he complained of back and stomach pains. Thinking nothing of it, he did not seek any treatment or consult any doctors initially.
As the pain persisted, we visited a doctor in Jalan Ipoh, only to find out that my beloved Punch had a tumour.
He was diagnosed with Cholangiocarcinoma (a rare cancer of the gallbladder) which had spread to the liver. The prognosis was bleak.
To me, at the time, I felt my whole world crumble into a heap. Punch was calmer than I was. He was consoling me as I was crying the whole journey back home.
We spoke to our son, who had a private talk with his father at the time. Something I was unaware of, until his passing.
On the 3rd of March 2012, we saw a hepatobiliary surgeon. He was not very optimistic of Punch's chances. He had only given him six months.
I was not told of this duration, but my son, who is a doctor was well aware of the situation. We took him to several hospitals and consulted several doctors and specialists. Hoping against hope that something could be done for him. Over the next few months, he got weaker. He was tired, spoke very little and never really complained despite being in a lot of pain.
Punch took everything in his stride. Knowing he did not have much time left, all he wanted was what had kept him happy all these years… to be surrounded by those he loved. His three sisters who live in Melbourne came down and stayed with him over his last few months.
In June 2012, his condition worsened. He was weaker and jaundiced. His appetite was poor and he was losing weight. He also had difficulties moving his limbs as he was very weak. On 4th Aug 2012, he was admitted to Subang Jaya Medical Centre. The place brings such mixed memories for me. In 2007, the most joyous with the birth of our beloved grandson, and in 2012, the loss of my beloved Punch.
During his admission, he had a steady stream of visitors. From family, to his former school friends, friends from various stages of his career. He had visitors from overseas, he even had total strangers visit him, as they knew that Punch Gunalan was admitted. Several former and current badminton players whom he had previously trained visited him almost daily. We and our family were very touched by these players who spent time daily just to see him and keep him company, despite him being at his weakest. On 12th Aug, he tried to see the men's singles finals of the London Olympics, where Lee Chong Wei played Lin Dan. He predicted a Lee Chong Wei victory, which wasn't to be.
Punch loved to be surrounded by those close to him. He lived his life like that. And at his final passing, he was surrounded by those who loved him the most. I held his hand through the night, as my son sat on the other side of the bed from him. Knowing that he was fading away. Away from me after 42 years of love and memories.
At the dawn of 15th Aug 2012, at 6.00am, my Punch finally left me. He took his last breath holding my hand, and my son's in his other hand. I felt like everything from me had gone. I felt a void that will never be filled again. Can I ever forget all this? Not until my last breath.
On that fateful day, I lost my pillar of strength, my soul-mate, my best friend….my legend, my hero. Five years down the line, I still miss everything about him. But I still cherish every moment I shared with him. For 42 years…. I was truly blessed.