By
R.Selvarani: He had just returned from Germany after completing his degree and was appointed as a National Coach by the Ministry of Sports.
On my first day at the Kampung Pandan track I was introduced to this tall, dark and handsome guy named Ishtiaq Mobarak. He was my mentor. My mind went blank and I couldn't focus on what he was saying for the first couple of minutes. I was a young and naive girl eager to become a champion and when he agreed to accept me as his athlete, words could not describe the joy that I felt…Gosh…I just couldn't wait to return home to share the news with my family, neighbours and friends.
I started off as a high jumper, but within a year he transformed me into a hurdler. Thereafter my journey to becoming a champion started. I was then a little plump and some athletes used to tease me and Ish would always "shut" them up. There were also a couple of coaches who said that he was wasting his time coaching me. Ish took that as a challenge and proved them wrong.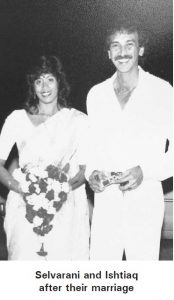 1st Kiss from My Mentor
Ish was offered an awesomely-paid job in Singapore. House, car, utility bills all taken care of by the company, but yet he was not happy. Why? Because coaching was his passion and he was missing all his athletes in KL.
Every weekend he would fly back to coach us, his athletes. One weekend the athletes had organised a party. Ish arrived at the venue, took me to the dance floor and we danced non-stop for two hours. Finally when he sent me back he kissed my hand and said goodnight. I almost fainted (being the naive girl). It was an amazing feeling getting a kiss from your then mentor. I tied a plastic bag over my hand when I took my shower that night. Whole of the following day I was in a daze thinking about the two hours of non-stop dancing, and the kiss on my hand…
Great Coach and Motivator
Ish had his ways of communicating with athletes, coaches, parents etc. He could identify talents, he could handle the most difficult athletes. He does a fantastic job motivating athletes during competitions. Many a time he had motivated stressed out athletes, and second best athletes into winners.
His athletes just loved spending time with him. Many of them loved to visit him on off training days. Some would also stay at our home over the weekends.
There are also athletes who are not coached by him but would love to talk to him before they go for competitions.

A Romantic and Passionate Person
I love the name Ramesh so when Ish and I got married I secretly called him Ramesh at times. On our 1st Valentine's Day after marriage Ish sent a basket of roses to the house (we were staying with our parents at that point of time) with a beautiful message to me and signed off as 'LOVE, RAMESH'
Can you imagine how my parents reacted when they saw the bouquet. Both Ish and I worked on that day and when we returned home, saw my dad walking in the living room restlessly. Mum was seated in the living room, looking pale and scared. In their minds both were wondering how Ish was going to react when he reads the message on the basket of flowers. Thank God they were not heart patients then. Upon seeing how my parents were reacting he quickly laughed it out as he didn't want to put my parents through further stress.
Another Valentines Episode I had left for work (at that point of time we were living on our own). Mid-day he called to say that he was not feeling well and needed to be taken to the hospital. I applied for Emergency Leave and rushed home. As I got into the living room I noticed a large vase of roses (my heart melted) but continued to rush to the bedroom because I kept calling Ish but there was no response. I had a beautiful and amazing surprise as I reached the bedroom door…the whole bedroom walls had stalks of roses pasted on, I am just blessed to have had this romantic man as my husband.
– 1st Wedding Anniversary
Ish sends me a bouquet of flowers to the office and the message read: "I'm blessed and thank you for being my wife – 1 down, 99 years to go". But as it turned out, God loved him more, and had to take him away after 28 years.
Embarrassing / Funny / Romantic
Once we went out to listen to music at a diners. He stood on his chair and then announced that he loves me.
On another occasion, it was my birthday and he took the girls (both our daughters) and me to an Italian restaurant for dinner. As we were having dinner, we talked about love and family and he was telling our daughters about how much he loved me and how blessed he was to have us in his life.
At that point, he stood up with his hands raised and about to get the attention of the people in the restaurant, to announce his love for his family.
However this time around I was quick enough to stop him, while our two girls kept encouraging him to continue with his action. Gosh! I had a hell of a time trying to stop him from doing so.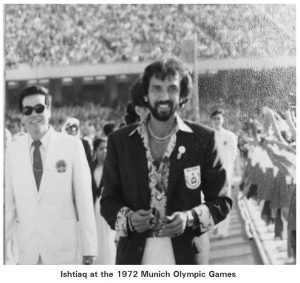 Grooming
Ish's teaching and guidance contributed to my success as a Customer Service Manager at my work place. He was one person that I could confide in when I have had a stressful day at work. Particularly so, when I used to have problems with my immediate supervisor. He would listen, then correct me if I was wrong and then showed me a better approach.
Ish was also my personal grooming/dressing adviser. He taught me how to mix and match my clothes, to make up, using the right accessories and even the hair style.
When I first joined him as an athlete and was getting into national ranks, Ish took me to his friend's salon and got him to restyle my hair which was really short (I had shoulder length hair then). According to him, the shoulder length hair was a hindrance to training. Just imagine how I felt at that point of time (an Indian girl with extremely short hair). I cried and cried and was so furious with him. That night there was a dinner party for the athletes, and everyone who saw me complimented me on my new look. It was only then did I start smiling.
Loves Children
Ish had always spoken about adopting abandoned children. I therefore started contributing to a children's world organisation. Two weeks before he passed away Ish touched on the same subject matter. As such I had increased my contribution (on his behalf) to the said organisation and also to a local organisation.
Nature Lover
Ish had a way of communicating with animals. One should watch him communicating with the monkeys at our neighborhood.
Our second daughter, Shakira, spends lots of time with her daddy watching National Geographic, Animal Planet etc. Both of them were always exchanging notes on this subject.
Today Shakira has made her name as one of the outstanding naturalists in Langkawi. Credit also goes to her uncle, Irshad Mobarak (Ishtiaq's brother) who has guided her in this field.

Hobbies
He loved Bikes & Cars – spent loads of time at bike shops/workshops
Loved gardening Likes & Dislikes He ate when he was hungry but every night for supper he had a glass of milk with something sweet i.e. peanut biscuits (Kacang tumbuk) / Indian milk candies.
He loved fruits and his favourite were mangoes.
He didn't like shopping, be it market, grocer, departmental stores. When we got married his mum advised me that I would have to shop for his clothes too.
He loved simple food, wore simple clothes except when he had to attend a function.
He was not a party going man. In general he was a simple man who lived a simple life.
His threshold for pain was just amazing. He hated going to visit the doctor. If he fell sick as in flu, fever he would not take any medication, instead would drink a lot of water and ate fruits and rest.
He was a simple, humble and passionate person. THANK YOU 'YANG' for choosing me as your life partner.

I loved you as my mentor, I loved you as my coach, I loved you as my boyfriend and most of all I loved you as my husband, and will continue loving you till we meet again…
Girls and I still miss you dearly and it still hurts a lot not having you around, but we know that you are a star up above watching over us.